Third largest rail network in the world
Russia and railways are inseparable. The rail network plays a key strategic role in connecting Russia's economy to world markets and linking parts of the country together.
Russia stretches over a vast territory from the North Pacific to the Baltic Sea and extending to the Arctic Ocean. It covers 17 million square kilometres, which is more than 10% of the Earth's land mass. Rail transportation is therefore a vital component of the Russian economy and plays an integral part in the movement of freight.
More than 85 thousand kilometers of rail track span Russia and about 87% of the country's overall freight turnover, excluding pipeline traffic, travels by rail. That equates to over 2.5 trillion tonnes-km a year or about 1.2 billion tonnes of cargo.
Unregulated pricing for rail operators' services
Market reforms to bring private investment and competition into the market began in 2001 and were aimed at modernising freight rail transportation services in Russia while improving efficiency and profitability.
Even though the Russian state railway company JSC Russian Railways (RZD) retains a monopoly in the provision of rail infrastructure, and is by far the largest provider of locomotive traction services, a regulatory framework gives third-party rail operators the right to access this infrastructure on a non-discriminatory basis.
Pricing for Globaltrans' services, and for freight rail operators' services in general, is unregulated except for those elements provided by RZD (such as infrastructure and locomotive traction for loaded and empty trips).
The competitive landscape has changed significantly since the start of reforms with private freight rail operators significantly expanding their fleets. They represented 88% of all Russian railcars in 2022, up from about 30% at the end of 2005.
Coal, oil products and oil and metallurgical cargoes are key market segments
Freight rail volumes in Russia are largely comprised of commodities such as coal, oil products and oil, metals, ores, and construction materials.
Coal (thermal and coking) is the largest segment of the industry, representing 29% of Russia's overall transportation volumes in 2022 while oil products and oil contributed 17% of industry volumes that year. There are various oil products that are normally transported by rail although crude oil is mainly transported through pipelines.
The transportation of metallurgical cargoes (including ferrous metals, scrap metal and ores) also accounted for about 17% of industry volumes in 2022, followed by construction materials (including cement) at 13%.
Overall Russia's transportation
volumes by freight, 2022 (%)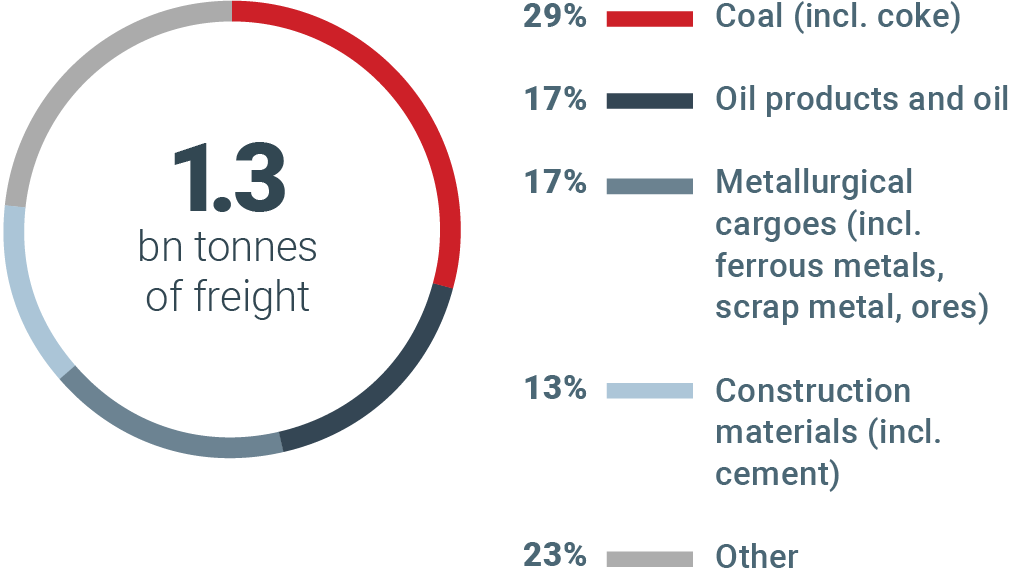 Overall Russia's freight rail turnover,
(bln tonnes-km)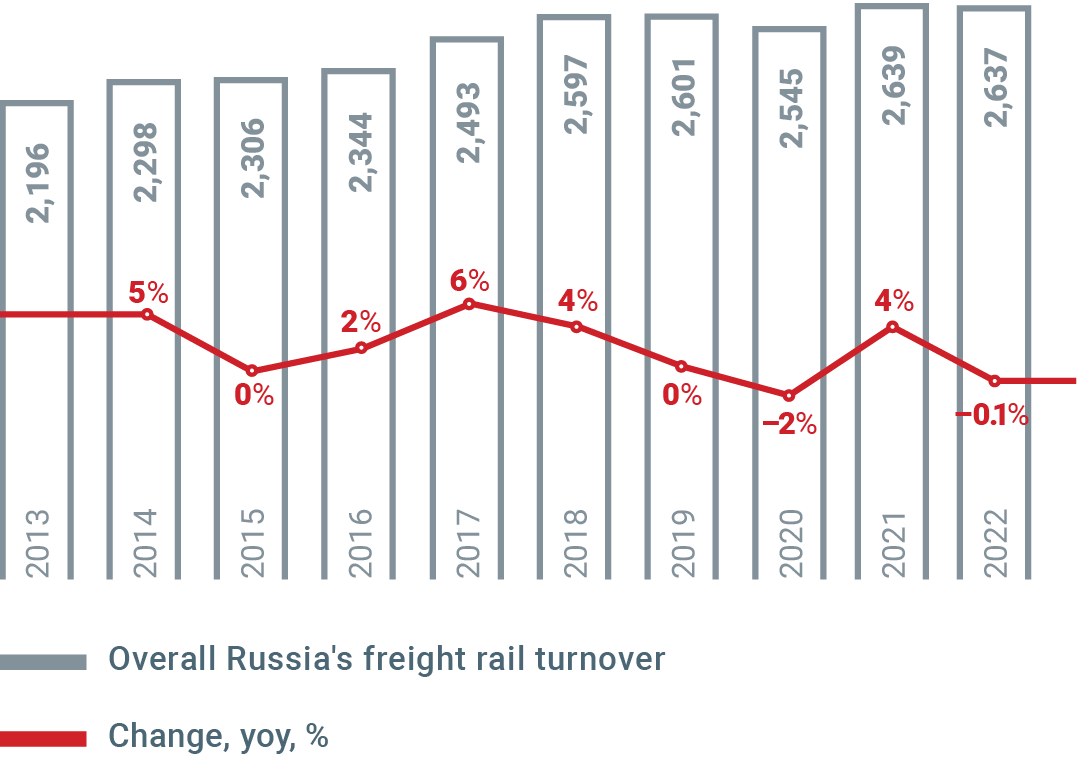 Overall Russia's transportation volumes,
(mln tonnes)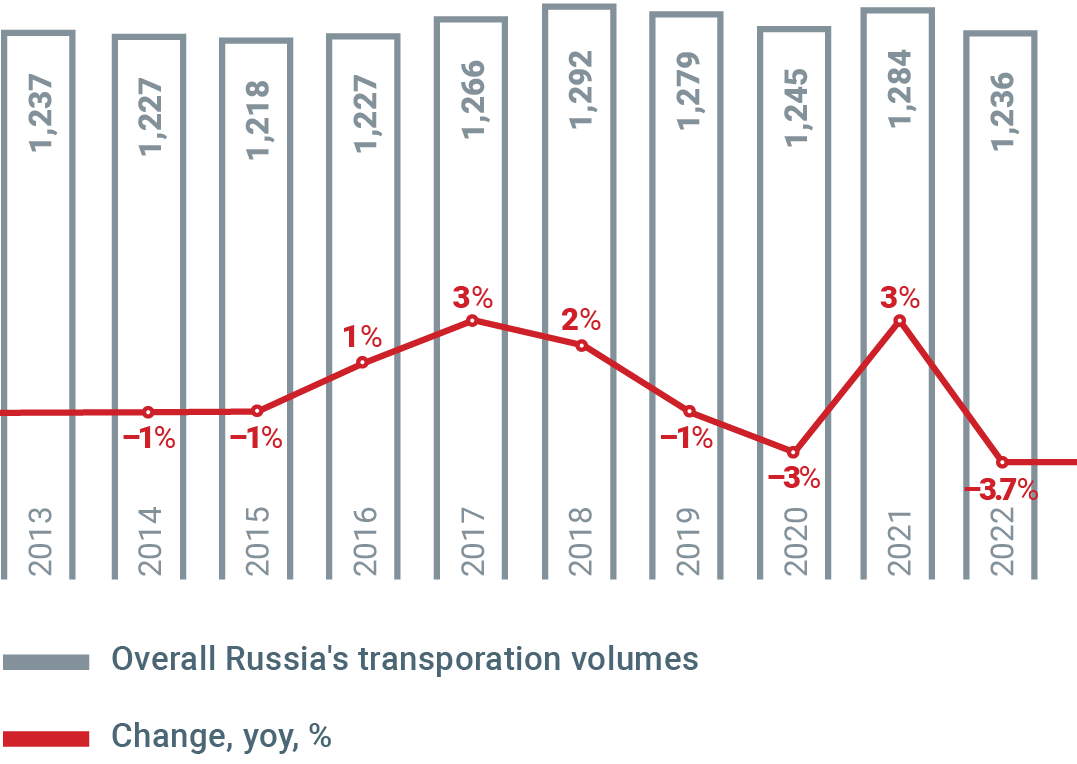 Russian freight rail fleet
The fleet of rolling stock in Russia consists largely of general-purpose rolling stock and various specialised railcars, which together made for an overall fleet of about 1.3 million units at the end of 2022.
The most common type of railcar in Russia is the gondola car (with high sides but an open top), which represented about 48% of the total railcar fleet (or 606,000 units) at the end of 2022. Gondola cars are used to carry a wide variety of cargoes, including ferrous metals, scrap metals, ores, crushed stone, coal and timber among others.
Tank cars, the second most common type of railcar in Russia accounting for about 20% of the fleet (or 255,000 units), are designed to transport liquid and gaseous commodities and are used mainly for the transportation of oil products and oil.
Other railcars including flat cars and hopper cars among the others made up the remaining 32%. Flat cars are mostly used for rail transportation of containers, while hopper cars are specialised in fertilisers, cement and grain among the other cargos.
All information on this page is at 31 December 2022 or for 2022 unless otherwise stated.
Source: Globaltrans; Rosstat; RZD
Third-longest rail track in the world
of the country's overall freight turnover, excluding pipeline traffic, travels by rail
of freight railcars fleet in Russia operated by private players
Number of freight railcars operating in Russia