Globaltrans' service offering principally consists of freight rail transportation services for large industrial clients alongside railcar leasing and ancillary services. We contract and manage our Total fleet of 66,115 railcars (as of 31 December 2022) on a 24/7 basis across countrywide rail network.
In Russia, the mainline railway network is owned by
JSC Russian Railways, a state owned rail company that also provides the majority of locomotive traction. Private railcar operators, like Globaltrans, access this network on equal terms on a non-discriminatory basis.
Total Fleet by type,
31 December 2022 (units)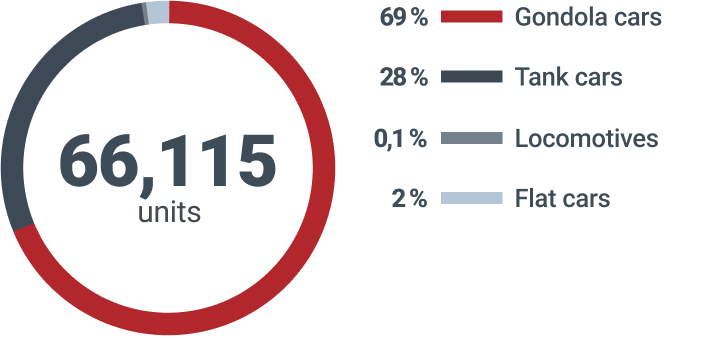 Efficient operations
Providing cost effective, reliable yet flexible services to customers whilst generating strong profitability on its railcars is the key goal of the Group's logistics management. The minimisation of Empty Runs – the distance covered when empty railcars move to new points for loading - is a core element in achieving logistical efficiencies and driving profitability on railcars.
The principal cargoes carried by the Group are metallurgical cargoes, oil products and oil as well coal representing 41%, 15% and 30% of the Group's Freight Rail Turnover respectively.
Globaltrans' Market Share of Russia's overall freight rail transportation volumes was 7% with the Group maintaining a strong presence in priority industrial segments – metallurgical cargoes (16%) and oil products and oil (9%).
Freight Rail Turnover
by cargo type, 2022 (%)



Market Share of overall Russia's
freight rail volumes by cargo,
2022 (%)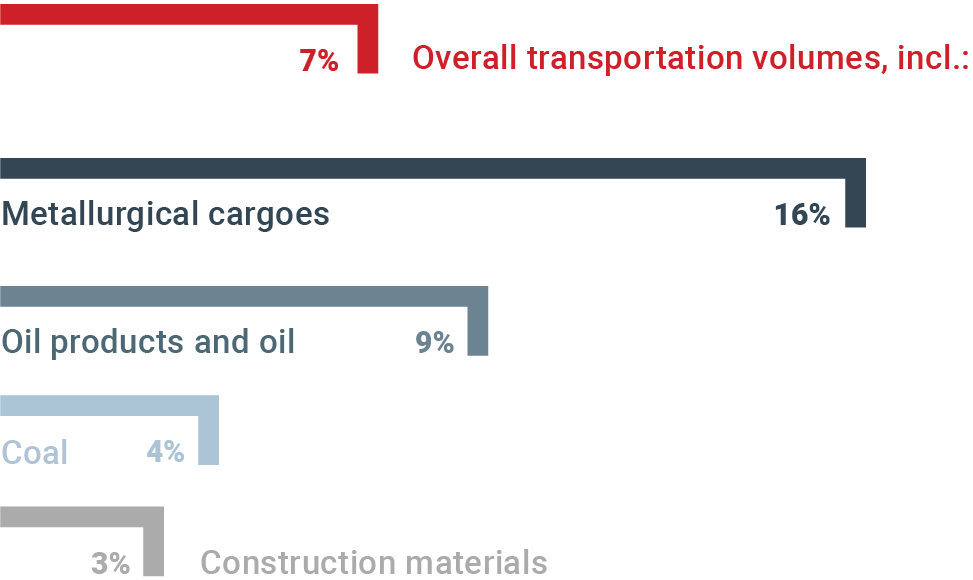 High-quality customer base
Globaltrans works with over 500 clients across Russia and the CIS countries, ranging from large industrial groups to more specialised companies. In 2012, Globaltrans pioneered the concept of long-term partnerships with leading industrial groups, whereby it manages the majority of these clients' freight rail logistics.
The Group has since expanded its long-term contracting base and today has such agreements with leading businesses. Together, these contracts contribute 59% of the Group's Net Revenue from Operation of Rolling Stock.
All information on this page is at 31 December 2022 or for 2022 unless otherwise stated.
Source: Globaltrans; Rosstat.
Wide operational coverage
High operational efficiency
driving strong profitability
Trusted long-term partner
to leading industrial groups